Midseason Top 25+ Advanced Stats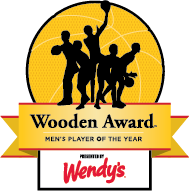 We reiterate our reluctance to rely too heavily on statistics in determining the top candidates for the John R. Wooden Award presented by Wendy's. We feel that they overemphasize offensive categories, don't accurately capture leadership traits, and are skewed by many factors, including strength of opponent, game flow, and coaching philosophy.
However, for those who want to use statistics to bolster your case for your favorite player, here are some advanced statistics for the Wooden Award Midseason Top 25, plus 7 of the most talked-about players left off that list.
Players not on the Midseason Top 25 can be included on the Final Ballot which consists of 15 players who are certified by their schools to meet the Wooden Award's academic requirements.
Name
Team
Team RPI
Team SOS
Ortg
Rank
%Poss
%Shots
eFG%
OR%
DR%
Kyle Anderson
UCLA
0.6308
19
116.4
313
25.8
21.1
55.8
5.0
25.5
Keith Appling
Michigan State
0.6584
23
116.3
320
23.9
22.1
52.8
1.6
10.0
Cameron Bairstow
New Mexico
0.6107
50
121.6
136
28.4
27.9
56.3
8.7
15.3
Jordan Clarkson
Missouri
0.5875
139
116.1
330
28.1
31.1
50.8
3.7
9.2
Aaron Craft
Ohio State
0.6392
22
106.0
17.8
13.7
49.2
0.9
10.6
Sam Dekker
Wisconsin
0.6784
3
116.2
325
24.2
26.3
54.5
8.8
16.0
Cleanthony Early
Wichita State
0.6573
83
113.4
450
26.6
29.1
54.3
5.7
21.4
Tyler Ennis
Syracuse
0.6621
96
122.0
129
21.0
19.6
48.2
2.4
9.7
C.J. Fair
Syracuse
0.6621
96
102.1
26.7
28.6
47.6
5.9
14.2
Aaron Gordon
Arizona
0.6945
18
106.9
22.9
23.8
50.5
11.4
18.5
Rodney Hood
Duke
0.6393
24
128.6
38
23.0
24.8
59.9
4.3
12.9
Nick Johnson
Arizona
0.6945
18
121.2
150
24.2
26.2
57.0
3.0
9.7
DeAndre Kane
Iowa State
0.6504
29
109.2
27.9
22.0
53.3
4.6
17.3
Doug McDermott
Creighton
0.6512
31
121.2
149
32.6
36.9
56.7
6.6
19.0
Shabazz Napier
Connecticut
0.6093
70
120.4
165
28.5
25.4
52.6
4.1
15.1
Jabari Parker
Duke
0.6393
24
112.3
31.2
32.9
51.8
10.4
21.5
Adreian Payne
Michigan State
0.6584
23
118.1
248
24.2
26.3
57.7
6.5
22.4
Casey Prather
Florida
0.6635
48
121.0
154
27.8
27.1
61.8
8.8
13.4
Julius Randle
Kentucky
0.6449
6
114.3
408
29.0
23.8
54.9
15.9
22.5
Marcus Smart
Oklahoma State
0.6414
63
112.1
29.4
26.9
50.2
5.0
14.8
Russ Smith
Louisville
0.6206
71
112.4
32.6
30.8
52.8
3.6
9.1
T. J. Warren
North Carolina State
0.5731
45
111.2
31.2
34.9
52.7
10.7
13.3
Andrew Wiggins
Kansas
0.7113
1
112.3
24.3
25.9
50.2
8.0
13.3
Chaz Williams
Massachusetts
0.6558
39
111.7
25.7
22.1
49.5
2.6
5.8
Joseph Young
Oregon
0.6081
52
131.2
21
22.0
25.4
57.5
3.0
10.1
Most Talked-about "Snubs"
Bryce Cotton
Providence
0.6013
69
119.3
26.8
28.2
46.8
1.9
8.6
Joel Embiid
Kansas
0.7113
1
113.0
473
24.5
19.9
67.1
12.5
24.1
Gary Harris
Michigan State
0.6584
23
116.7
300
26.4
28.5
53.2
4.9
10.3
Sean Kilpatrick
Cincinnati
0.6252
108
123.0
109
27.2
30.3
52.1
3.8
11.7
Lamar Patterson
Pitt
0.6448
67
123.9
96
27.9
28.1
59.6
4
14.7
Nik Stauskas
Michigan
0.6440
21
132.8
15
23.4
22.5
62.5
2.4
10.4
Xavier Thames
San Diego State
0.6363
95
121.6
138
28.2
29.5
51.2
2.3
7.8
Individual stats as of 1-26-14 are from kenpom.com. Team RPI and Strength of Schedule are from ESPN.com