Creighton's McDermott Wins John R. Wooden Award Presented By Wendy's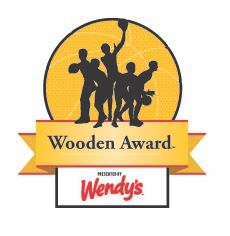 Fort Worth, Texas (April 4, 2014)— The John R. Wooden Award presented by Wendy's, the preeminent men's collegiate basketball player of the year honor, was awarded today by The Los Angeles Athletic Club in Fort Worth, Texas, to Creighton University senior forward Doug McDermott on ESPN's SportsCenter. McDermott is a three-time Wooden All American and the No. 5 scorer in NCAA history. McDermott was awarded the Wooden Award Trophy whose unique design was inspired by Coach Wooden's idea of the "total basketball player." Coach Wooden's grandson, Greg, was in attendance at the announcement to meet McDermott.
A voting base of nearly 1,000 college basketball experts throughout the nation ranked players from 10 to 1, and fans voted through the Fan Voting site woodenawardvote.com. Voters could consider performance during the first three rounds of the NCAA Tournament. The Top 5 vote-getters (Wichita State's Cleanthony Early, Arizona's Nick Johnson, McDermott, Duke's Jabari Parker, and Louisville's Russ Smith) have been invited to Los Angeles for the Wooden Award Gala presented by Wendy's on April 11.
McDermott received 3,930 points, outdistancing Duke's Parker, who had 2,569 points. Rounding out the top 10 in order were Smith of Louisville (2,228), Early of Wichita State (1,907), Arizona's Johnson (1,758), Shabazz Napier of Connecticut (1,615), Andrew Wiggins of Kansas (1,555), Michigan's Nik Stauskas (1,283), Florida's Casey Prather (1,037) and Sean Kilpatrick of Cincinnati (987). All of the top 10 vote-getters earned Wooden All American status for 2014.
McDermott is the first winner from the Big East Conference since Walter Berry of St. John's won the Wooden Award in 1986. Three Big East players have won the Award (from schools in the league at the time): McDermott, Berry, and Chris Mullin of St. John's in 1985. McDermott is the first three-time All American on the men's side since North Carolina's Tyler Hansbrough (2007-09) and the first Wooden Award winner from Creighton University. McDermott is the nation's leading scorer at 26.7 points per game, and his 3,150 career points puts him No. 5 on the NCAA all-time scoring list.
McDermott's story is well-known; he came back for his senior year to play for his father at Creighton, even surrendering his athletic scholarship to do so. He shot 52.5% from the field and 45.4% from three-point range, showcasing his ability to be both an inside and outside presence. He led the Bluejays to the last three NCAA Tournaments and finished third in the voting in 2013.
The 38th Annual Wooden Award Gala presented by Wendy's will celebrate the male and female Wooden Award All American Teams and the Legends of Coaching Award recipient, Stanford Head Women's Basketball Coach Tara VanDerveer, and will include the announcement of the women's Wooden Award winner. The Gala will take place April 11, 2014 at The Los Angeles Athletic Club.
All players have proven that they are making progress toward graduation and are maintaining at least a cumulative 2.0 GPA. Voters were asked to take into account performance during the regular season and postseason through the first three rounds of the NCAA tournament, as well as a player's character and academic performance, essential components of an outstanding player. Creighton will receive a contribution to its general scholarship fund in McDermott's name from The Los Angeles Athletic Club.
About the John R. Wooden Award
Created in 1976, the John R. Wooden Award is the most prestigious individual honor in college basketball.  It is bestowed upon the nation's best player at an institution of higher education who has proven to his or her university that he or she is making progress toward graduation and maintaining a minimum cumulative 2.0 GPA.  Previous winners include such notables as Larry Bird ('79), Michael Jordan ('84), Tim Duncan ('97), Candace Parker ('07 and '08), Kevin Durant ('09) and Maya Moore of Connecticut ('09 and '11). Michigan's Trey Burke won the 2013 Wooden Award presented by Wendy's.
Since its inception, the John R. Wooden Award has contributed close to a million dollars to universities' general scholarship fund in the names of the All American recipients. The Award has also sent more than 1,000 underprivileged children to week-long college basketball camps in the Award's name.   Additionally, the John R. Wooden Award partners with Special Olympics Southern California (SOSC) each year to host the Wooden Award Special Olympics Southern California Basketball Tournament.  The day-long tournament, which brings together Special Olympic athletes and the All Americans, takes place at The Los Angeles Athletic Club the weekend of the John R. Wooden Award Ceremony.
Follow the candidates and get the latest news throughout the season by logging on to www.WoodenAward.com, following us on Twitter (@WoodenAward), or going to the Wooden Award facebook page at http://www.facebook.com/WoodenAward.  For more information on the John R. Wooden Award, please contact the Wooden Award staff at 213-630-5231 or via email at woodenaward@laac.net.
John R. Wooden Award®
Presented by Wendy's®
Wooden Award Winners
| | | |
| --- | --- | --- |
| 1977 | Marques Johnson | University of California, Los Angeles |
| 1978 | Phil Ford | University of North Carolina |
| 1979 | Larry Bird | Indiana State University |
| 1980 | Darrell Griffith | University of Louisville |
| 1981 | Danny Ainge | Brigham Young University |
| 1982 | Ralph Sampson | University of Virginia |
| 1983 | Ralph Sampson | University of Virginia |
| 1984 | Michael Jordan | University of North Carolina |
| 1985 | Chris Mullin | Saint John's University |
| 1986 | Walter Berry | Saint John's University |
| 1987 | David Robinson | United States Naval Academy |
| 1988 | Danny Manning | University of Kansas |
| 1989 | Sean Elliott | University of Arizona |
| 1990 | Lionel Simmons | La Salle University |
| 1991 | Larry Johnson | University of Nevada, Las Vegas |
| 1992 | Christian Laettner | Duke University |
| 1993 | Calbert Cheaney | Indiana University |
| 1994 | Glenn Robinson | Purdue University |
| 1995 | Ed O'Bannon | University of California, Los Angeles |
| 1996 | Marcus Camby | University of Massachusetts |
| 1997 | Tim Duncan | Wake Forest University |
| 1998 | Antawn Jamison | University of North Carolina |
| 1999 | Elton Brand | Duke University |
| 2000 | Kenyon Martin | University of Cincinnati |
| 2001 | Shane Battier | Duke University |
| 2002 | Jason Williams | Duke University |
| 2003 | T.J. Ford | University of Texas |
| 2004 | Jameer Nelson | St. Joseph's University |
| 2005 | Andrew Bogut | University of Utah |
| 2006 | J.J. Redick | Duke University |
| 2007 | Kevin Durant | University of Texas |
| 2008 | Tyler Hansbrough | University of North Carolina |
| 2009 | Blake Griffin | University of Oklahoma |
| 2010 | Evan Turner | The Ohio State University |
| 2011 | Jimmer Fredette | Brigham Young University |
| 2012 | Anthony Davis | University of Kentucky |
| 2013 | Trey Burke | University of Michigan |
| 2014 | Doug McDermott | Creighton University |