JOHN R. WOODEN AWARD® PRESENTED BY WENDY'S® REVEALS 2013-14 PRESEASON TOP 50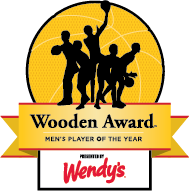 Los Angeles (November 12, 2013)— The Los Angeles Athletic Club has announced its Preseason Top 50 today on ESPN.com. Chosen by a preseason poll of national college basketball experts, the list is comprised of 50 student-athletes who are the early front-runners for the sport's most prestigious honor.
Creighton senior forward Doug McDermott, a Wooden Award All American in 2012 and 2013, looks to become the first three-time selection on the men's side since North Carolina's Tyler Hansbrough (2007-09). McDermott set Creighton single-season records for points, field goals and three-point percentage a year ago, and spent this summer leading Team USA in scoring (14.9 ppg) at the World University Games. He averaged 23.2 points and 7.7 rebounds last season to lead Creighton to a 28-8 record. After leading the country with 284 field goals and 834 points in 2012-13, McDermott will play as a walk-on for the Bluejays in their first year in the Big East this season.
Other players of note aside from McDermott include several stars who each had a huge impact on his team's NCAA Final Four run in 2013, including Michigan's Mitch McGary and Glenn Robinson III; Wichita State's Cleanthony Early; and C.J. Fair of Syracuse.
It is no surprise that AP preseason No. 1 Kentucky had the most players chosen to the list, four (sophomore Willie Cauley-Stein, and three freshmen: Julius Randle, Andrew Harrison, and James Young). Duke, Kansas, and Michigan State, all top 5 teams in the preseason, boast three Top 50 players apiece. Schools with two players selected include defending NCAA Champion Louisville, Baylor, Michigan, New Mexico, Ohio State, Tennessee and UCLA.
In terms of conferences, it promises to be an interesting year in the Big 10, with a chart-topping 10 players chosen to the preseason list from six different schools. The ACC had eight selections from six schools, followed by the Big 12 (3 schools), Pac-12 (5 schools) and SEC (2 schools) with six selections each. The brand new American Athletic Conference had five selections (4 schools), followed by the Big East, West Coast and Mountain West with two each; and the Atlantic 10, Missouri Valley, and Sun Belt each with one.
The players on the list are considered strong candidates for the midseason list and the official voting ballot, which will consist of approximately 20 top players who have proven to their universities that they are also making progress toward graduation and maintaining at least a cumulative 2.0 GPA. The Wooden Award All American Team, consisting of the nation's top 10 players, will be announced the week of the "Elite Eight" round of the NCAA Tournament.
About the John R. Wooden Award
The 38th annual Wooden Award ceremony will honor the Men's and Women's Wooden Award winners, and will include the presentation of the Wooden Award All American Teams and the Legends of Coaching Award, which in 2013 will go to Stanford Head Women's Basketball Coach Tara VanDerveer. The event will take place the weekend of April 11-12, 2014.
Created in 1976, the John R. Wooden Award is the most prestigious individual honor in college basketball. It is bestowed upon the nation's best player at an institution of higher education who has proven to his or her university that he or she is making progress toward graduation and maintaining a minimum cumulative 2.0 GPA. Previous winners include such notables as Larry Bird ('79), Michael Jordan ('84), Tim Duncan ('97), Candace Parker ('07 and '08), Kevin Durant ('09) and Maya Moore of Connecticut ('09 and '11). Michigan's Trey Burke won the 2013 Wooden Award presented by Wendy's.
Since its inception, the John R. Wooden Award has contributed close to a million dollars to universities' general scholarship fund in the names of the All American recipients. The Award has also sent more than 1,000 underprivileged children to week-long college basketball camps in the Award's name. Additionally, the John R. Wooden Award partners with Special Olympics Southern California (SOSC) each year to host the Wooden Award Special Olympics Southern California Basketball Tournament. The day-long tournament, which brings together Special Olympic athletes and the All Americans, takes place at The Los Angeles Athletic Club the weekend of the John R. Wooden Award Ceremony.
Follow the candidates and get the latest news throughout the season by logging on to www.WoodenAward.com or going to the Wooden Award facebook page at http://www.facebook.com/WoodenAward. For more information on the John R. Wooden Award, please contact the Wooden Award staff at 213-630-5231 or via email at woodenaward@laac.net.
2013-14 John R. Wooden Award®
Presented by Wendy's®
Preseason Top 50
| | | | | | |
| --- | --- | --- | --- | --- | --- |
| Name | School | Conference | Ht. | Yr. | Pos. |
| Jordan Adams | UCLA | Pac-12 | 6-5 | So. | G |
| Kyle Anderson | UCLA | Pac-12 | 6-9 | So. | G/F |
| Keith Appling | Michigan State | Big Ten | 6-1 | Sr. | G |
| Isaiah Austin | Baylor | Big 12 | 7-1 | So. | C |
| Jahii Carson | Arizona State | Pac-12 | 5-10 | So. | G |
| Willie Cauley-Stein | Kentucky | SEC | 7-0 | So. | F |
| Semaj Christon | Xavier | Big East | 6-3 | So. | G |
| Aaron Craft | Ohio State | Big Ten | 6-2 | Sr. | G |
| Sam Dekker | Wisconsin | Big Ten | 6-7 | So. | F |
| Spencer Dinwiddie | Colorado | Pac-12 | 6-6 | Jr. | G |
| Cleanthony Early | Wichita State | Missouri Valley | 6-8 | Sr. | F |
| Joel Embiid | Kansas | Big 12 | 7-0 | Fr. | C |
| C.J. Fair | Syracuse | ACC | 6-8 | Sr. | F |
| Aaron Gordon | Arizona | Pac-12 | 6-9 | Fr. | F |
| Jerian Grant | Notre Dame | ACC | 6-5 | Sr. | G |
| Montrezl Harrell | Louisville | The American | 6-8 | So. | F |
| Gary Harris | Michigan State | Big Ten | 6-4 | So. | G |
| Joe Harris | Virginia | ACC | 6-6 | Sr. | G |
| Andrew Harrison | Kentucky | SEC | 6-6 | Fr. | G |
| Tyler Haws | BYU | WCC | 6-5 | Jr. | G |
| Andre Hollins | Minnesota | Big Ten | 6-2 | Jr. | G |
| Rodney Hood | Duke | ACC | 6-8 | So. | F |
| Joe Jackson | Memphis | The American | 6-1 | Sr. | G |
| Cory Jefferson | Baylor | Big 12 | 6-9 | Sr. | F |
| Sean Kilpatrick | Cincinnati | The American | 6-4 | Sr. | G |
| Alex Kirk | New Mexico | Mountain West | 7-0 | Jr. | C |
| James Michael McAdoo | North Carolina | ACC | 6-9 | Jr. | F |
| Doug McDermott*# | Creighton | Big East | 6-8 | Sr. | F |
| Mitch McGary | Michigan | Big Ten | 6-10 | So. | F |
| Jordan McRae | Tennessee | SEC | 6-6 | Sr. | G |
| Shabazz Napier | Connecticut | The American | 6-1 | Sr. | G |
| Kevin Pangos | Gonzaga | WCC | 6-2 | Jr. | G |
| Jabari Parker | Duke | ACC | 6-8 | Fr. | F |
| Adreian Payne | Michigan State | Big Ten | 6-10 | Sr. | C |
| Elfrid Payton | Louisiana | Sun Belt | 6-3 | Jr. | G |
| Dwight Powell | Stanford | Pac-12 | 6-10 | Sr. | F |
| Julius Randle | Kentucky | SEC | 6-9 | Fr. | F |
| Juvonte Reddic | VCU | Atlantic 10 | 6-9 | Sr. | F |
| Glenn Robinson III | Michigan | Big Ten | 6-6 | So. | F |
| LaQuinton Ross | Ohio State | Big Ten | 6-8 | Jr. | F |
| Wayne Selden, Jr. | Kansas | Big 12 | 6-5 | Fr. | G |
| Marcus Smart | Oklahoma State | Big 12 | 6-4 | So. | G |
| Russ Smith | Louisville | The American | 6-0 | Sr. | G |
| Jarnell Stokes | Tennessee | SEC | 6-8 | Jr. | F |
| Rasheed Sulaimon | Duke | ACC | 6-4 | So. | G |
| Noah Vonleh | Indiana | Big Ten | 6-10 | Fr. | F |
| Dez Wells | Maryland | ACC | 6-5 | Jr. | G/F |
| Andrew Wiggins | Kansas | Big 12 | 6-8 | Fr. | G |
| Kendall Williams | New Mexico | Mountain West | 6-4 | Sr. | G |
| James Young | Kentucky | SEC | 6-6 | Fr. | G |
Players listed alphabetically
* indicates player chosen to the 2013 Wooden All American Team
# indicates player chosen to the 2012 Wooden All American Team